The Best and Hottest Male Revue Shows in New England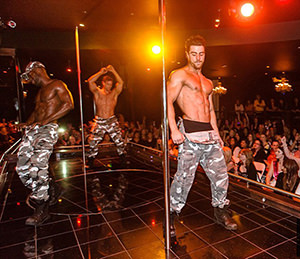 If you want to be entertained by gorgeous hunks, then attending a male revue show is an absolute must. Male revue shows have now become mainstream thanks to the popularity of Magic Mike, and women can now freely watch a male revue show or visit a strip club without eyebrows being raised.
At Bad Boys Incorporated, our male revue shows feature some of the best faces and hottest male bodies in New England. Our exotic male dancers will put on a sizzling hot striptease show that will certainly set the whole crowd wild! With our sultry dance moves combined with Cirque du Soleil acrobatic elements, you are assured of a night of decadence that will be remembered for years to come.
See our schedule of upcoming male revue shows or contact us to learn more about our male strippers and our upcoming shows in New England and the greater Boston area!
What to Expect from a Male Revue Show in Boston
Your evening with the Bad Boys will include a variety of hard bodies and heart-stopping action that is guaranteed to raise your temperature. For the uninitiated, a male revue is typically a completely choreographed dance routine and show where the men are in costume. The shows are typically set on a stage and the dancers will rarely come off-stage to play with the audience. The great news is that we aren't your typical male revue company. Our male exotic dancers flirt and interact with the audience, and there's plenty of personal interaction and crowd participation. You can also get called up on stage for impromptu, one-on-one action!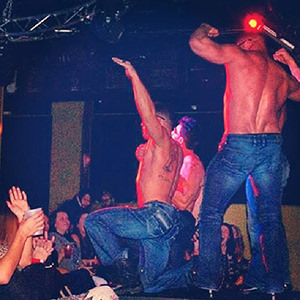 What Sets Our Male Revue Show Apart
There is an art to stripping, and you will certainly know the difference between a professional dancer and a cheesy and amateur. With Bad Boys Incorporated, you are assured of polished, professionally choreographed production numbers that incorporate dancing, humor, games, and lots of sex appeal all jam-packed into one male revue show that you will never forget.
If you are looking for the perfect excuse to go out with your girls, then a trip to a male strip show would definitely be one for the books! Instead of having a dancer show up at your front door, you have the option to watch our Bad Boys perform in revue shows. Most of our revue shows take place in bars and clubs throughout the New England area.
Watch Boston's Finest in a Male Revue Show!
While some might say that male revue shows are mere sexual objectification of the naked body, we like to think it is otherwise. We believe our shows are a celebration of female sexuality. Yes, we love to tease and tantalize, but we will also make you feel desirable and celebrated. Come check out one of our shows today to see what the buzz is all about!
If you are an owner of a club or a bar who is looking to provide a more risqué form of entertainment for your ladies' nights or special event, contact us to learn more about scheduling a male review show at your establishment. Our boys can certainly pack in the crowds to your bar or club in no time at all!
For more information about our male revue shows or to book our male strippers for a show, please contact us!