Hire Our Male Strippers for a Wild Birthday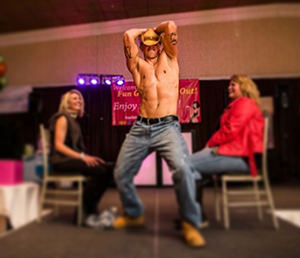 Planning a friend's birthday party can be stressful. Allow Bad Boys Incorporated to provide the entertainment portion of the evening so you can relax, sit back, and enjoy the show knowing that you have put on a successful birthday bash! Our male strippers can put on a great show to ensure your party will not flop, and that all of your guests are highly entertained!
Bad Boys Incorporated provides male strippers for private parties and male revue shows in night clubs and bars. We are based in Boston, and we provide service for our clients throughout New England including in the following areas: Connecticut, Maine, Massachusetts, New Hampshire, Rhode Island, and Vermont.
To hire one of our male strippers for the birthday party you are organizing or to learn more about our dancers, please contact us today.
Why Hire Our Male Strippers for a Birthday Party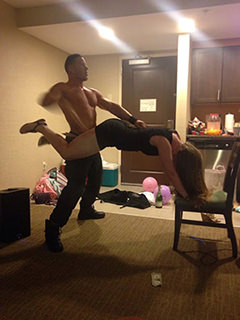 Bad Boys Incorporated is a leading provider of male dancers based out of Boston, MA, and we have an established record of delivering great, high-quality adult entertainment for birthday parties. Our male strippers are first-class entertainers and are highly trained professionals. Our male dancers know how to provide a great memorable experience for the birthday girl and all the other guests. They are also very flexible and can put on everything from a fun, conservative show for an 80th birthday party to a wild and naughty strip show for a Dirty Thirty party.
You know your friend, and you know her type and preference in men. This is her big day so make sure you go all out and get her a male stripper that she will love. Bad Boys Incorporated has a wide variety of professional exotic male strippers to choose from in every ethnicity such as Black, Caucasian, Latinos, and Asians, so you are free to choose whatever the lady wants!
Tips When Planning to Hire a Male Stripper for Your Party
If you decide to keep the entertainment a surprise for the birthday girl, it is important to note that only the birthday girl should be surprised. It is best to let the others know ahead of time that there will be a male stripper performance during the evening, so everyone knows what to expect. For the entertainer's sake, also inform the guests about the customary tipping etiquette, so they can come prepared with dollar tips. The more generous the guests are with the tipping, the more fun and energized the performance will be!
Contact Us to Hire Male Strippers for Your Girl Friend's Birthday Party
Hiring a male stripper for your or a friend's birthday party should not be awkward nor uncomfortable. We have a very friendly and accommodating staff who will walk you through the entire booking process. We can help you with answers if you have any questions, and we can also provide you with tips to ensure that the male stripping performance will be a huge success at your event! Contact us today to book one of our male strippers or to learn more!