Hottest Male Entertainers in Boston & New England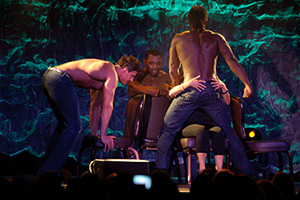 Bad Boys... every good girl wants one! If you are on the lookout for a special kind of adult entertainment with the hottest guys for your next party or private event, Bad Boys Incorporated has plenty of gorgeous hunks you can choose from. All you have to do is check out our gallery of male strippers, choose one that tickles your fancy, and then book an appointment!
Our male entertainers are in high demand, so we recommend having one or two alternates in mind in case your first choice is unavailable for your requested date.
What Makes Our Male Entertainers Different
Bad Boys Incorporated allows you to choose a gorgeous male entertainer that will delight and entertain your guests at your party or special event. Our services are perfect for any occasion that calls for entertainment that is a little risqué, but still very classy and high energy. Let our guys help you celebrate milestones such as an upcoming wedding, a birthday, a promotion, or a send-off. You can even use our male entertainers for a surprise party, or for any special occasion you can think of - our Bad Boys are up to the task!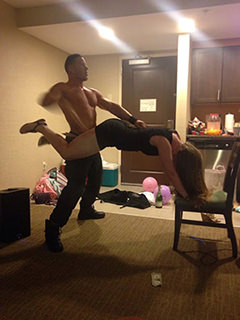 So what makes our shows and male entertainers better than the competition?
Talent: Our guys are not just pretty faces or gorgeous bodies. Not only are our male entertainers hot, they are also very sociable. We can put your guests at ease right away, while making sure everybody is having a great time. All of our dancers have great bodies and great personalities, ensuring you won't get a dud for your party.
Experience: Our male strippers are all in great shape and have been professionally trained to manage the room's environment. Each dancer knows how to tailor their performance based on the level of how comfortable your guests are - they can go from mild to wild in an instant!
Professionalism: If this is your first time ordering a male stripper, hiring one for your party or private event should be easy. Hiring a male entertainer from us is as easy as making dinner reservations at a restaurant or ordering a pizza! We provide the male entertainers, the music, the costume, and the props. All you have to do is show up and bring your inner wild side!
Reliability: As the party host, the pressure is on you to keep your guests entertained. Make sure to hire male entertainers who will show up on time to provide the entertainment. We pride ourselves on our reliability, so you can rest assured your party will go off without a hitch.
Hire Our Male Entertainers for Your New England Party
Discover a brand new style of stripping entertainment with your girls! Each performance is fully choreographed, accompanied with a costume of your own choice, and includes plenty of personal interaction with your guests. Bring your Magic Mike fantasy to life and keep your friends entertained with our male strippers!